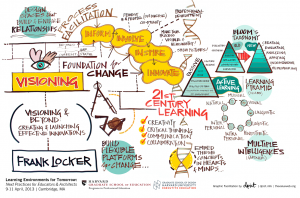 Learning Enviroments for Tomorrow
Frank Locker initiated this course in 2010 as an Executive Education course in the Graduate School of Design. In 2011 the Graduate School of Education supported the course, and in 2012 assumed leadership for operations. It remains a unique example of high level interdisciplinary collaboration.
Last year we changed the course name to Learning Environments for Tomorrow, LEFT. Enrollments grew from 20 in our first year to 85 last year. This year, ??? As in the past years, it offers educators and architects a rare opportunity to work intensely and collaboratively together to explore innovative practices in education and design school facilities to support them. Participants come from across the country and around the world to work with expert faculty, primarily from Harvard and MIT. This is truly a high level think tank!
This year Frank Locker will present on Visioning & Beyond: Creating and Launching Effective Innovations. This session will outline 21st century learning goals, identify best and next practices to meet those goals, share facility concepts to support these practices, and explore effective school and community stakeholder engagement to actually bring desired change. We will discuss traditional school decision-making procedures and assumptions about design as a prelude to unleashing futures thinking, taking responsibility for innovation, and facilitation strategies to support innovation. The presentation will conclude with thoughts on effective communication techniques and an argument for staff Professional Development to accompany every innovative school building design.
Please click this link to the Harvard course website: http://www.gse.harvard.edu/ppe/program/learning-environments-tomorrow-next-practices-educators-and-architects